Best Cooking ClassHanoi Old QuarterTripadvisor Review
Best Hanoi Cooking Class
BEST HANOI COOKING CLASS - TAKE DUONG'S COOKING CLASS - A MUST TRY
Our cooking class in Hanoi are held at Duongs 2 Restaurant which is located in the heart of Hanoi's Old Quarter. Just a short stroll (300m) from Hoan Kiem Lake and 1,5 kilometre from the Dong Xuan market which is Hanoi's major fresh food market.
At Duong's Restaurant, Duong's cooking class is run by famous Top Chef Vietnam who one of Hanoi's most creative and talented chefs. Chef Duong recently finished 3th in Top Chef Vietnam and has also been a regular on Iron Chef Vietnam.
When you participate in our classes, our chef will share with you many of his secrets as he takes you on a culinary journey, teaching you how the subtle blend of spices are the key element to creating the outstanding flavours that are found in some of the favorite dished of the Hanoian.
You can chose to attend a morning or afternoon cooking class. There are 7 menu options available for the cooking classes. All cooking classes are available to be run in either the morning or afternoon. Morning classes will culminate in lunch whilst afternoon classes culminate in dinner.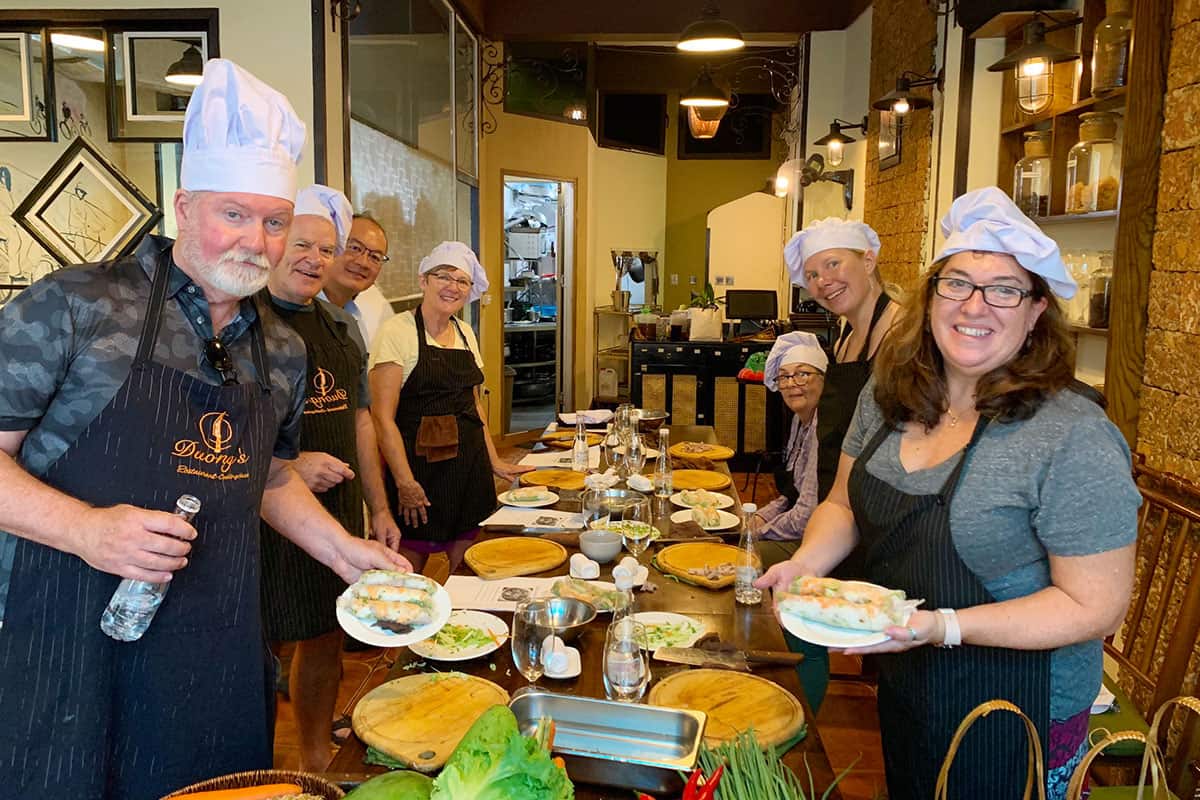 There are 7 menu options
Monday
Hanoi traditional beef soup with rice noodle ( Phở Bò )
Green mango salad with squid & prawn (Nộm xoài hải sản)
Grilled pork with herbs & fresh vermicelli (Bún chả)
Tuesday
Hanoi traditional chicken soup with rice noodle ( Phở Gà )
Hanoi deep fried spring rolls (Nem rán Hà Nội)
La vong's style grilled fish (Chả cá lã vọng)
Wednesday
Hanoi traditional beef soup with rice noodle ( Phở Bò)
Banana flower salad with chicken & seafood (Nộm hoa chuối với gà và hải sản)
Grilled pork with herbs & fresh vermicelli (Bún chả)
Thursday
Hanoi traditional beef soup with rice noodle (Phở bò)
Fresh spring rolls with pork & prawn (Gỏi cuốn tôm, thịt)
Grilled pork with herbs & fresh vermicelli (Bún chả)
Friday
Hanoi traditional chicken soup with rice noodle ( Phở Gà )
Fresh spring rolls with pork & prawn (Gỏi cuốn tôm, thịt)
Grilled Beef Slice in Bamboo (Bò nướng ống tre)
Saturday
Hanoi style traditional soup with chicken & rice noodles (Phở gà)
Noodle rolling with beef and vegetable ( Phở cuốn bò )
La vong's style grilled fish (Chả cá lã vọng)
Sunday
Hanoi traditional beef soup with rice noodle ( Phở Bò )
Fresh spring rolls with pork & prawn (Gỏi cuốn tôm, thịt)
Grilled pork with herbs & fresh vermicelli (Bún chả)
Our guide will collect you from your hotel by taxi or motorbike to the class. Where you will then be take the Cyclo trip to the market.
You will meet the Chef and experience a day in his life as you wander through the fresh food market. You will also learn some tips and tricks to ensure that only the finest quality ingredients are selected. You will then select all the ingredients needed for your class.
Chef will then accompany you as you make your way back to Duong's Restaurant. You will stop along the way and get to sample a selection of street foods.
During the lesson, Chef will teach you the secrets to creating decorations, to enhance the presentation of your dished, well as some of the basic skills needed to master the knife skills required to be a chef.
Duration: 4 hours
You can ​choose​ the​ ​morning class ​at 8.30 am – 12.30 pm or​ afternoon ​class ​at ​14.30 pm – 18.30 pm everyday.
Cost (per person in USD):
| | |
| --- | --- |
| GROUP | PRICE |
| 1-10 people | $55 |
What are we different?
Perfect location
Based in an elegant corner of Duongs 2 Restaurant, Duong Cooking Class located in 101 Ma May Street, Hanoi, one of 36 ancient streets in Hanoi Old Quarter – The area for tourists in Hanoi! It's gonna be easy for all the lovely tourist stay in the centre to join the class.
Unique class atmosphere
Totally different from other COOKING CLASS you ever joined before, we did not open a cooking class as a kitchen with many kitchen tools, stoves & white brick! Duong Cooking Class will be held in the elegant corner in the second floor of Duongs 2 Restaurant, aim to make you feel more friendly & comfortable when make your own dishes.
Including market walking culture tour
For all the guests joined the class, We will offer a free Market Walking Culture Tour by going to visiting a traditional market to learn more about the culture of Vietnam such as going to grocery store everyday, architecture of Vietnam traditional house, lifestyle of Hanoians and by some more necessary ingredients for the coming class.
English speaking chef
Some other Cooking classes in Hanoi they hold the class with Vietnam speaking Chef and a translator. That is ok but if the class was instructed by an English speaking Chef is better for in the process of conveying the flavor dishes for the trainees.
Teaching decorations
Normally, a basic cooking class just show you the way to cook a dish with their right flavor in the right way! But in Duong Cooking Class, our Chef will show you how to decor the dishes how to make it suitable for the taste of dishes.
Special extras
Joining Duong Cooking Class, any trainee will get some special extras from Duongs 2 Restaurant! A special gift will be given as a souvenir; all the recipes of the dishes you made in the class on that day will be shared being easy for you to cook it for your friends & family when you come back to your country.
Find a cooking class in Hanoi
Many visitors come to Hanoi to enjoy the fabulous food on offer in the city. From the Michelin starred restaurant to the humble local bistro, Vietnam food has something for every taste and wallet too.
Choosing a cooking class in Hanoi
For some, a fascination with Vietnam cuisine is sparked and rather than take home just memories of good food or a culinary souvenir, they desire a more substantial memento of their stay. For gastronomes like these, a cooking class in Hanoi is a great way to take a little of Hanoi home with them. Choosing a cooking class in Hanoi might not seem easy, with so many courses on offer. At Duongs 2 Restaurant, however, we think our approach gives our traveller a unique experience of cooking in Hanoi.
A unique cooking class in Hanoi
Duong cooking class
We at Duongs 2 Restaurant like to give our traveller a better understanding of Vietnam food and its place in the development of Vietnam culture. Our cooking class in Hanoi begins in the food market, where our traveller learn to select the best produce available.These freshest of in season ingredients then form the basis of our menu for the day. Back in the kitchen, the cooking begins.
Learning new skills at our cooking class in Hanoi
Learning to buy the right ingredients is one cornerstone of good Hanoi cooking and another is developing basic cooking skills. Each of our courses teaches some of the same techniques that every Vietnam chef must master to achieve professional certification.
Learning to basic cooking skills
Our cooking class in Hanoi also features a teaching technique which is unique to Duongs 2 Restaurant and helps our traveller learn more quickly and retain the knowledge they gain.Our chef teachers are informal and relaxed and spend the day talking about the various ingredients and dishes and the history that led to their appearance on our plates.
A cultured cooking class in Hanoi
We passionately believe that the best way to understand a nation's culture is to understand the food that it eats and throughout our day we share our thoughts on the history and people that have shaped our cuisine.Our cooking class in Hanoi then concludes as we enjoy the three course meal that we have prepared, accompanied by matching wines.
Traditional market in the old quarter
As we enjoy our food, we continue with discussions around the table on Vietnam culture and food. This combination of professional tuition placed in a wider cultural context leaves our traveller with a deeper understanding of Vietnam cuisine and some unforgettable memories.