Bun cha Hanoi is referring to a dish familiar to many people, especially those who live and work in the capital. With its own characteristics of color, flavor and processing, make bun cha easy to enter people's hearts. The familiarity makes few people think that bun cha Ha Thanh is the source of the capital's culinary culture.
Let's find out all you need to know about Bun Cha Hanoi and where to eat the best bun cha Hanoi? Read to discover!
Don't Miss: 25 Hanoi Street Food
Overview of Bun Cha Hanoi
There is no specific date in the history of bun cha. Bun cha has been known for a long time, and Hanoians from generation to generation consider it a vital food.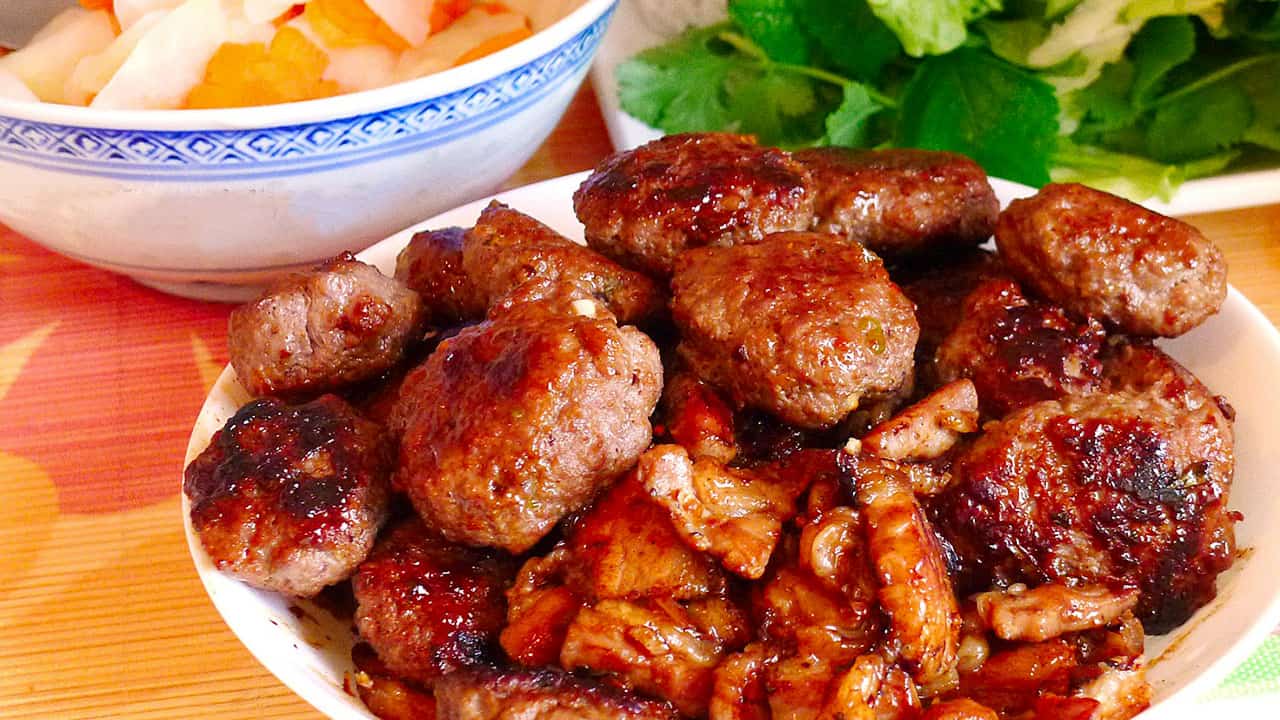 Bun Cha is not luxury, nor does it arrive in a picturesque manner, yet it is profoundly imprinted in the psyche of many individuals. Bun Cha has a distinct flavor that everyone who has traveled a long distance will remember.
That is why bun cha becomes a cultural marvel worthy of inclusion in a poetry collection. Noodles go nowhere, but the aroma spreads. Vu Ngoc Phan's book also mentions this fragrance ""Those Years": "There's a pleasant scent of vermicelli with bean vermicelli there, the merchant of bun cha fan cha on embers in an iron box. Smoke pouring from a raging fire. Three or five cents will get you a superb bun cha; homemade is more expensive and time-consuming."
Bun Cha is the exquisite cuisine of the land of Kinh Ky
Bun cha Hanoi is made up of three basic components: dipping sauce, grilled pork buns, and vermicelli. The dipping sauce significantly determines whether a plate of bun cha is excellent or not. Bun Cha dipping sauce is blended with sour, spicy, salty, sweet with fish sauce, vinegar, sugar, garlic, chile with the proper amount depending on the bartender, and there is always a mannequin including green papaya, carrots, or in many locations, bean sprouts in the sauce bowl.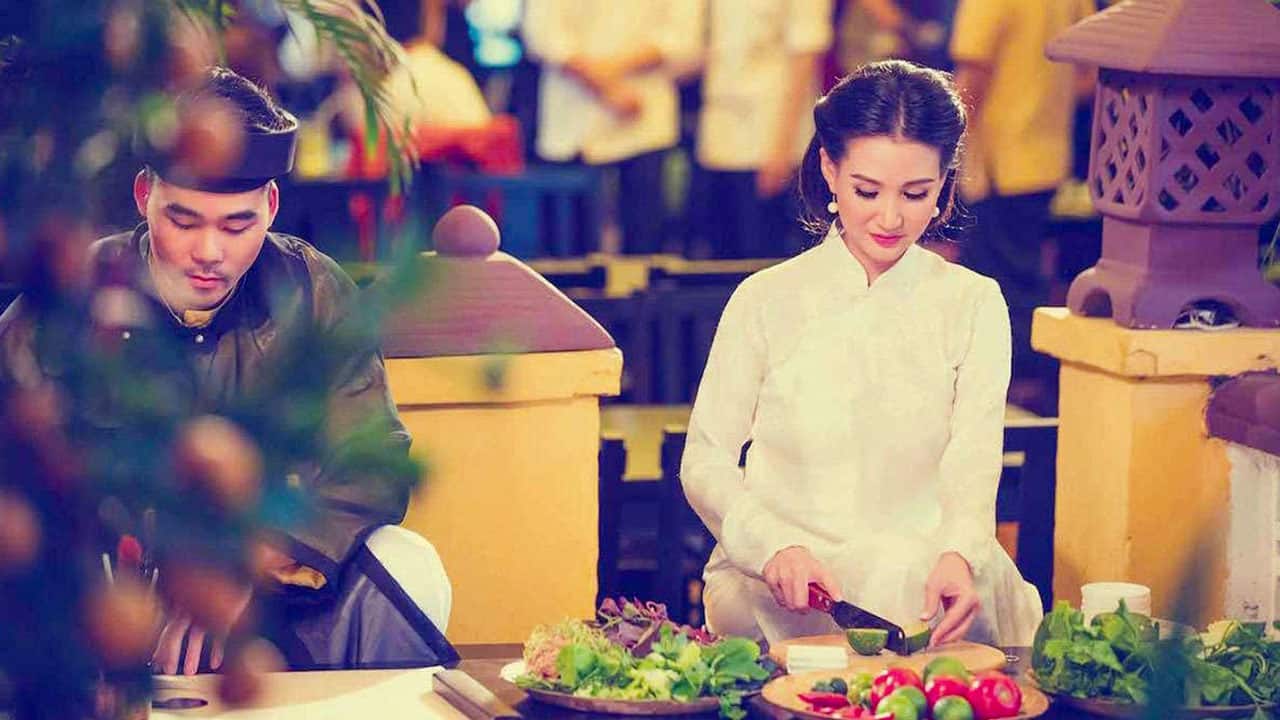 There are two varieties of grilled pork rolls: patties and balls. Bacon is typically created from hog belly to make the flesh tender and delicious. The ball is shaped into a circular block and marinated before being grilled over a red-hot charcoal burner.
How to eat bun cha Hanoi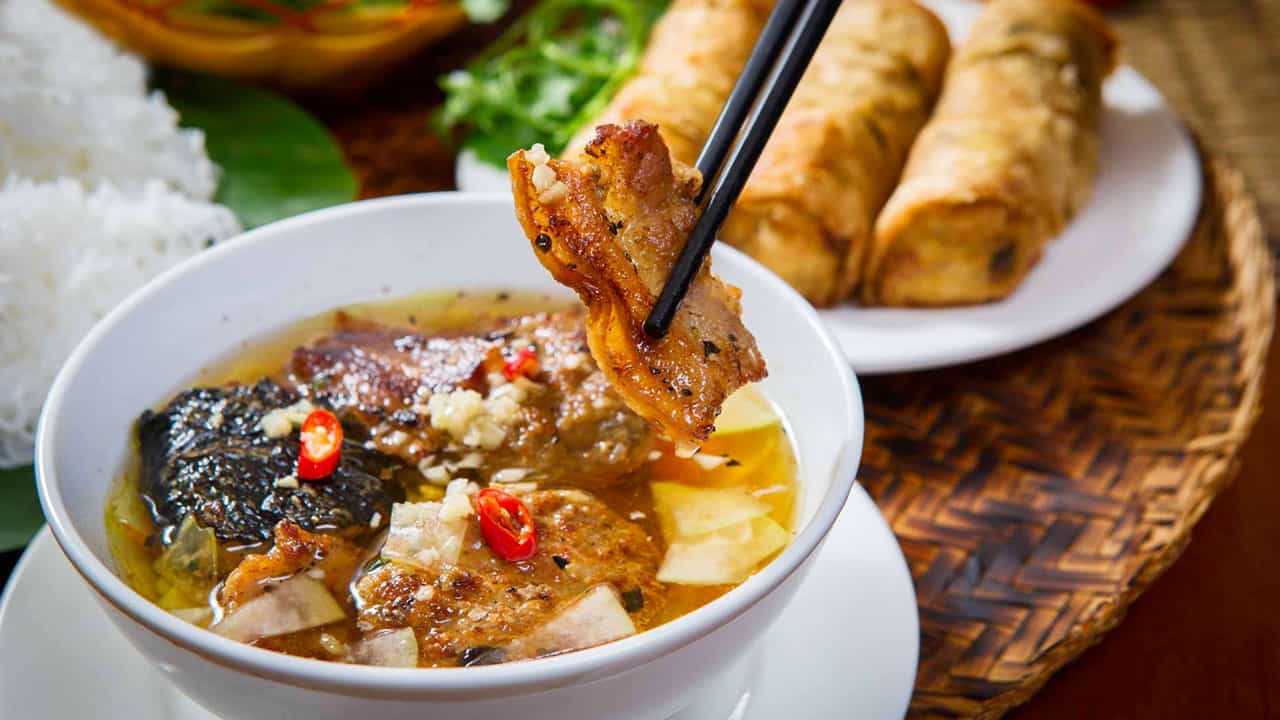 Here is the best way to eat bun cha in Hanoi!
Method 1: According to the residents of the capital, the proper method to eat bun cha is with a range of green vegetables such as lettuce, herbs, perilla, and so on. Pick up a vermicelli chopstick and dip it into a bowl of sauce containing grilled meat and veggies. Then, live and enjoy the flavorful but harmonic spread of enjoyment!
Method 2: In a separate bowl, combine the vermicelli, meat, and vegetables, followed by the dipping sauce. Then combine the ingredients and serve.
Method 3: Select vermicelli, grilled meat, and vegetables, then top with sweet and sour fish sauce. You may easily match the bun cha flavor to your preferences using these two methods.
Hanoi cuisine in particular and Vietnamese cuisine in general are very rich and diverse. At Duongs 2 Restaurant, we have Vietnamese-style dishes, French-style fusion dishes to ensure satisfaction for any diners. In addition, we have cooking classes in Hanoi, street food tours that bring new experiences for visitors to Hanoi.
Best bun cha Hanoi old quarter
#01 – Bun cha Obama (Bún chả Hương Liên)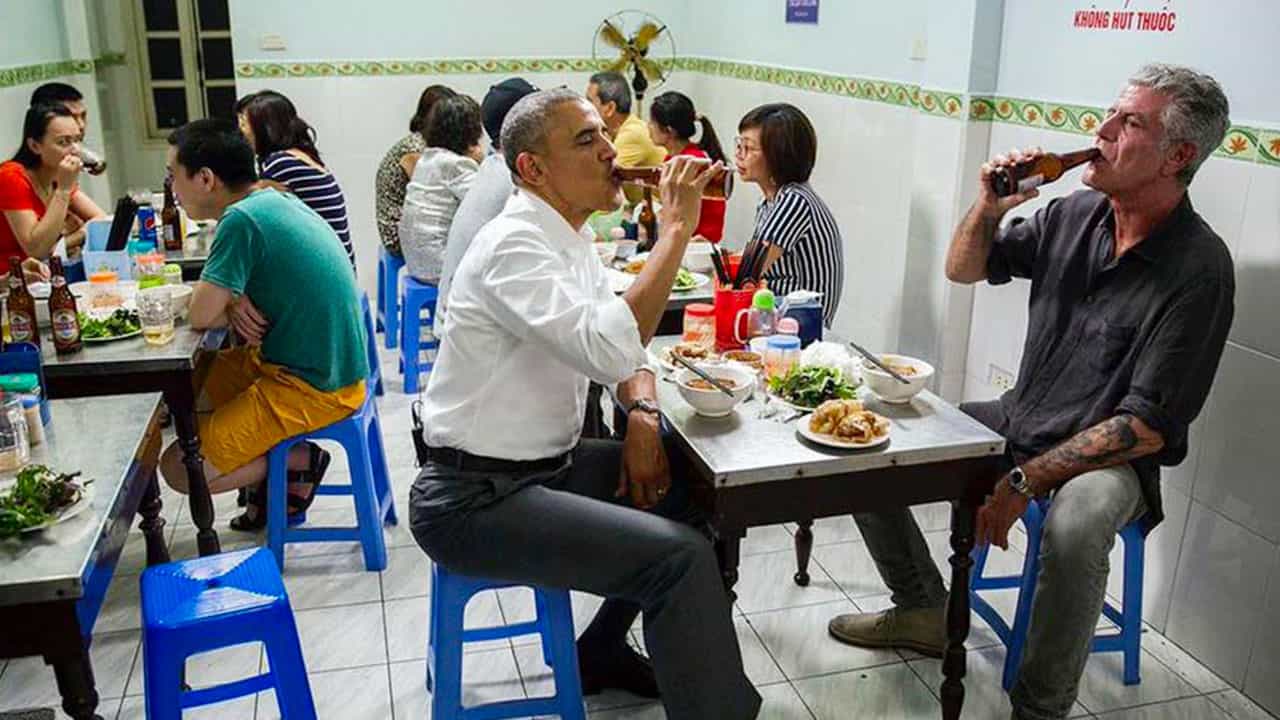 This is the Hanoi bun cha restaurant where US President Barack Obama once dined. As a result, the restaurant is always full, primarily with tourists. The restaurant boasts a modest but spacious and clean interior design. Bun cha here is similar to other locations, with great grilled beef, delicious spring rolls, a delectable dipping sauce, fresh vermicelli, and clean vegetables. In addition to bun cha, there are crab spring rolls and seafood spring rolls to pick from.
Address: 24 Le Van Huu, Hai Ba Trung, Hanoi.
Opening hours: 8:30 a.m. – 8:30 p.m.
#02 – Bun cha Hang Quat (Bún chả Hàng Quạt)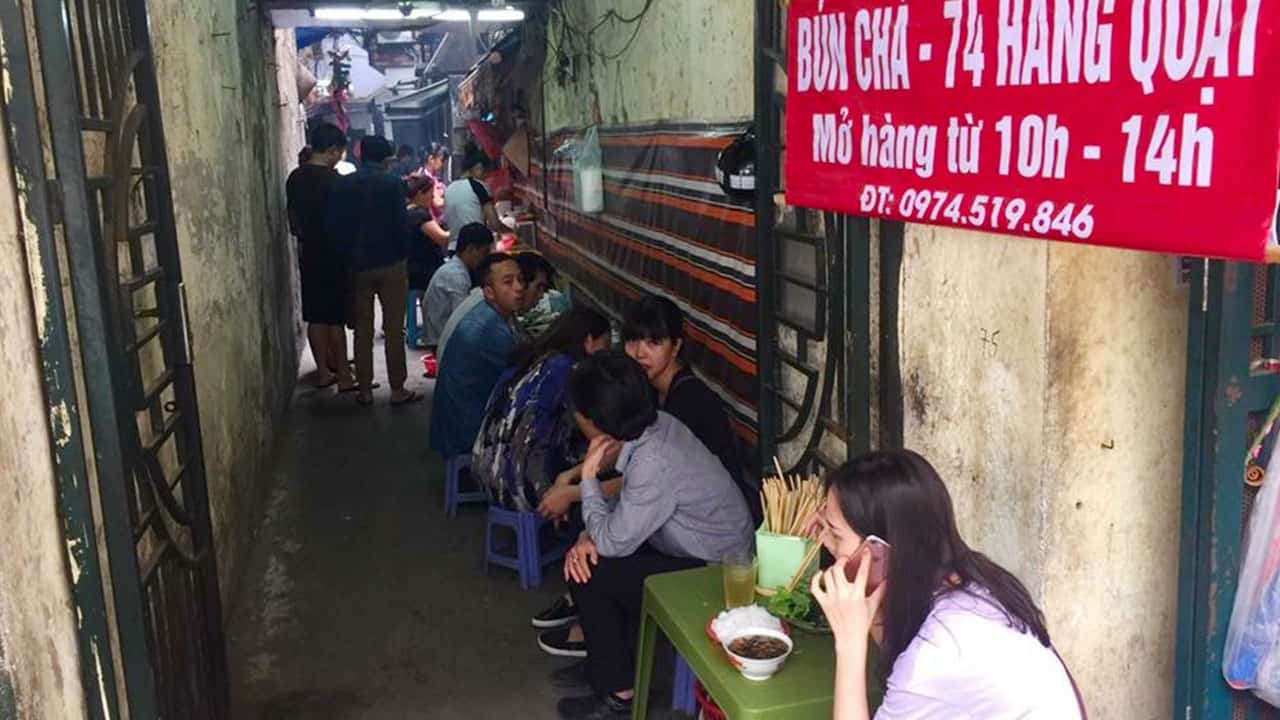 Bun Cha Hang Quat is known for their vermicelli and fried spring rolls. Vermicelli with meatballs, soft and fragrant meat marinated in spices to taste, is the restaurant's most popular meal. This restaurant's cuisine is unusual and wonderful. The heavy seasoning, as well as the taste of the barbecued meat soaking into the soup, will stimulate your hunger. Crispy and excellent fried spring rolls are also available. If you think the meat is not enough, you can get extra. The sweet and salty fish sauce may seem unfamiliar to the inexperienced, but we recommend diluting it with vinegar to lessen the flavor.
Try adding some garlic and chile for a more flavorful dipping sauce!
Address: 74 Hang Fan Street, Hoan Kiem District, Hanoi
Working hours: 10:00-14:00
#03 – Bun cha Sinh Tu (Bún chả Sinh Từ)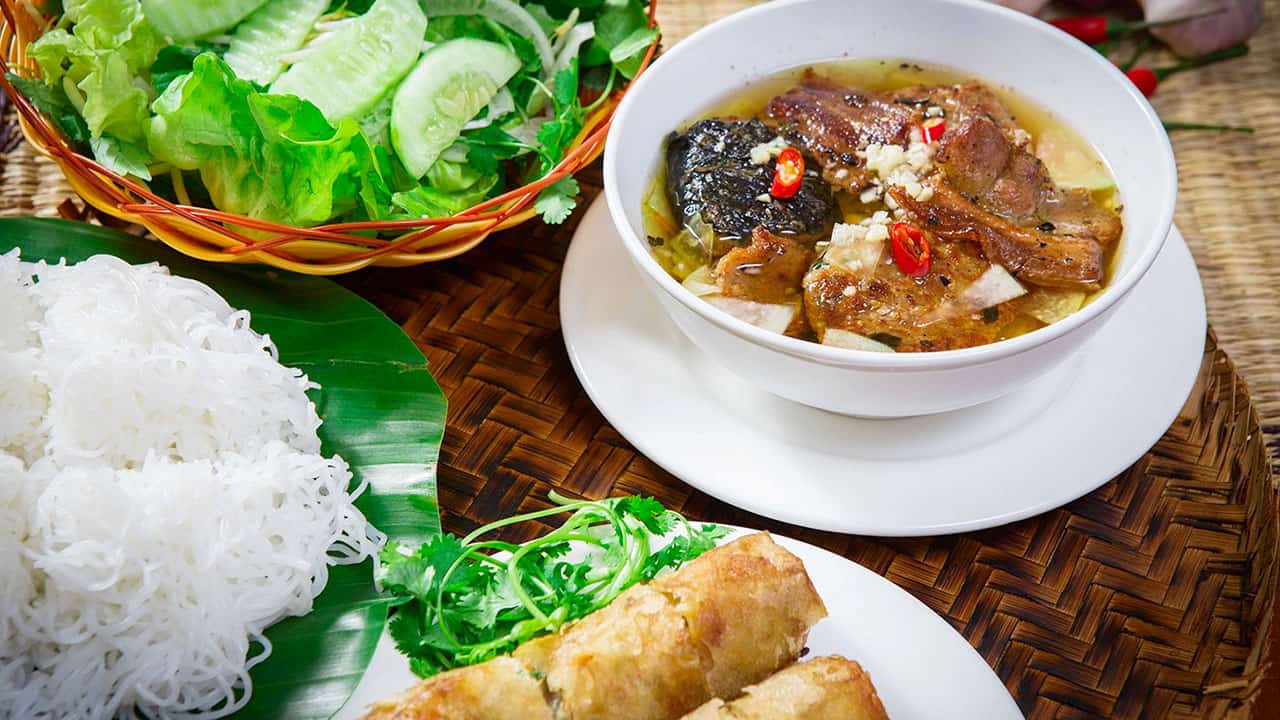 This is one of Kinh Ky's most successful and well-known bun cha restaurant brands. Sinh Tu bun cha currently has 9 locations throughout Hanoi's districts.
A bowl of Sinh Tu vermicelli is supposed to be full and filling. A bowl of vermicelli is seasoned to taste with raw vegetables, melon sprouts, and pork. Harmonious lean fat prepared in a unique method leaves guests with a lasting impression. Sipping a bowl of bun cha Hanoi on a cold day in Hanoi can warm your heart.
Address: Sinh Tu Bun Cha has many branches. Here are some typical establishments:
2 Nguyen Phong Sac, Cau Giay, Hanoi.
114A1 Giang Vo, Ba Dinh, Hanoi.
10 Hoang Cau Moi, Dong Da, Hanoi.
381 Hoang Quoc Viet, Cau Giay, Hanoi.
Opening hours: 7:30am – 2:00pm, 5:00pm – 9:00pm.
#04 – Bun cha Hanoi Dac Kim (Bún chả Hà Nội Đắc Kim)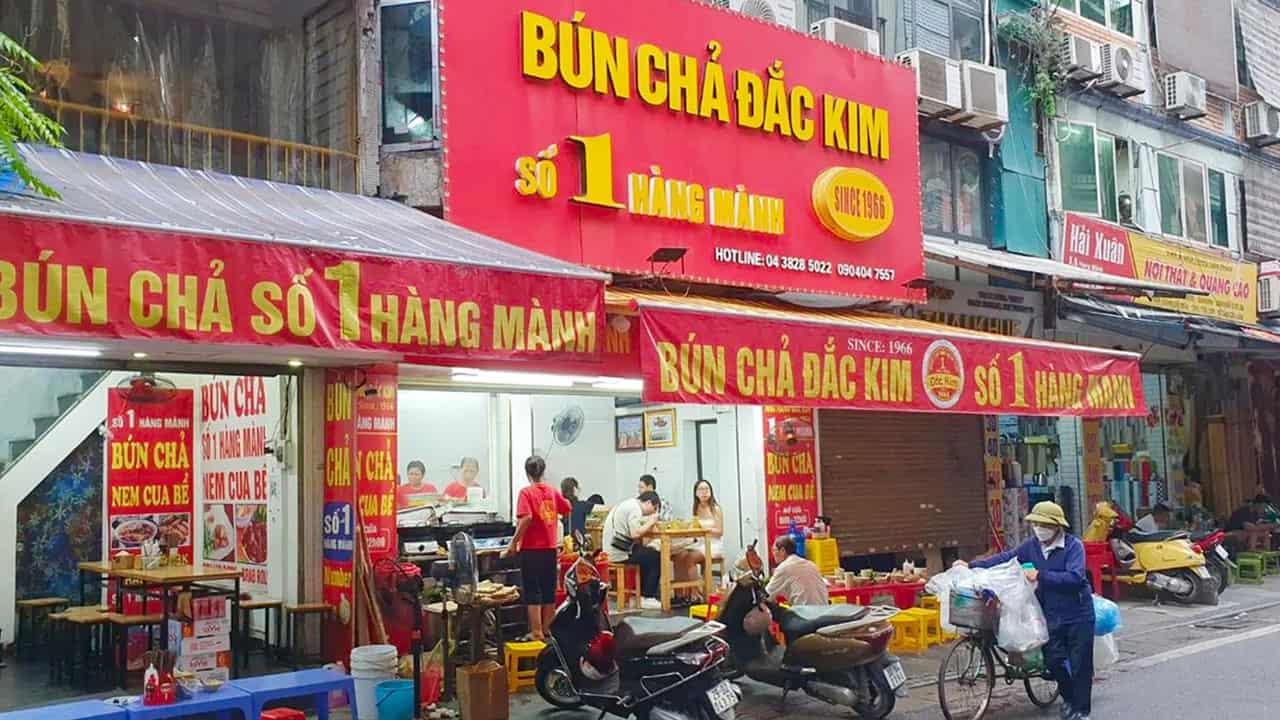 Bun Cha Hanoi Dac Kim has long been a popular destination for foreign travelers visiting the capital to sample Ha Thanh food. The meat is seasoned to taste, tasty, with a bit of fat mixed with a tiny aroma of onion fat, making this noodle dish more wonderful than ever.
Address: 1 Hang Manh, Hang Gai, Hoan Kiem, Hanoi.
Opening hours: 9am – 9pm.
#05 – Bun cha 34 Hang Than (Bún chả 34 Hàng Than)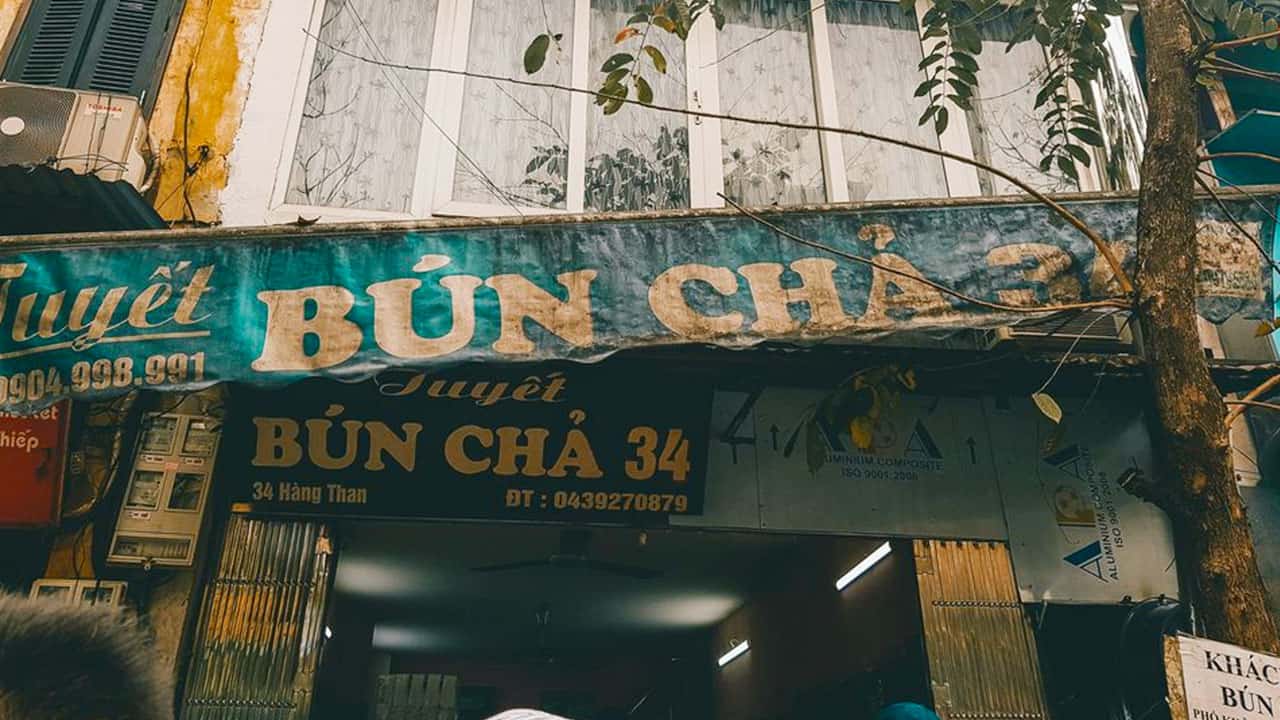 The sauce of vermicelli is produced very tasty, salty, sour, sweet and sweet with a little spicy and spicy ground pepper using the traditional recipe. A bowl of vermicelli has three varieties of delectable rolls: minced pork rolls, grilled pork rolls, and pork rolls with river bones, as well as the indispensable wonderful charcoal grilled meat, which is served with fresh veggies.
Address: 34 Hang Than, Ba Dinh district, Hanoi.
Opening hours: 7am – 5pm.
Bun cha recipe Hanoi
Ingredients for making Bun Cha Hanoi
Fresh vermicelli – 1 kg
Bacon – 700 gr
Minced pork – 500 gr
Carrot – 1 piece
Green enough – 1/2 left
Raw vegetables of all kinds 500 gr (lettuce/perilla/basil/basil/lettuce)
Minced red onion – 1 tablespoon
Minced garlic – 1.5 tbsp
Minced chili – 1 pinch
Oyster oil – 2 tablespoons
Honey – 3 tablespoons
Colored water – 2 tablespoons
Fish sauce 1 cup – (about 220ml)
Vinegar 1/2 cup – (about 100ml)
Cooking oil – 1 little
Common seasoning – 1 pinch
How to cook Hanoi Bun Cha
To eliminate dirt and odors from bacon, clean it with salt, then rinse with cold water and dry. Cut the meat into bite-sized pieces with a knife.
Marinate the meat for at least 30 minutes in 1/2 tbsp chopped shallot, 1/2 tbsp minced garlic, 1/2 tbsp seasoning, 1/2 tbsp MSG, 1/2 tbsp powdered pepper, 2 tbsp fish sauce, 1 tbsp oyster sauce, 2 tbsp honey, 1 tbsp colored water.
Add 1/2 tablespoon minced shallot and 1/2 tablespoon minced garlic, 1/2 tablespoon seasoning, 1/2 tablespoon MSG, 1/2 tablespoon powdered pepper, 1.5 tablespoons fish sauce, 1 tablespoon oyster sauce, 1 tablespoon honey, and 1 tablespoon colored water to the ground beef. Mix thoroughly with your hands and marinate the pork for 30 minutes to allow the flavors to infiltrate.
After around 30 minutes, take a suitable amount of ground meat and roll it into balls with your hands.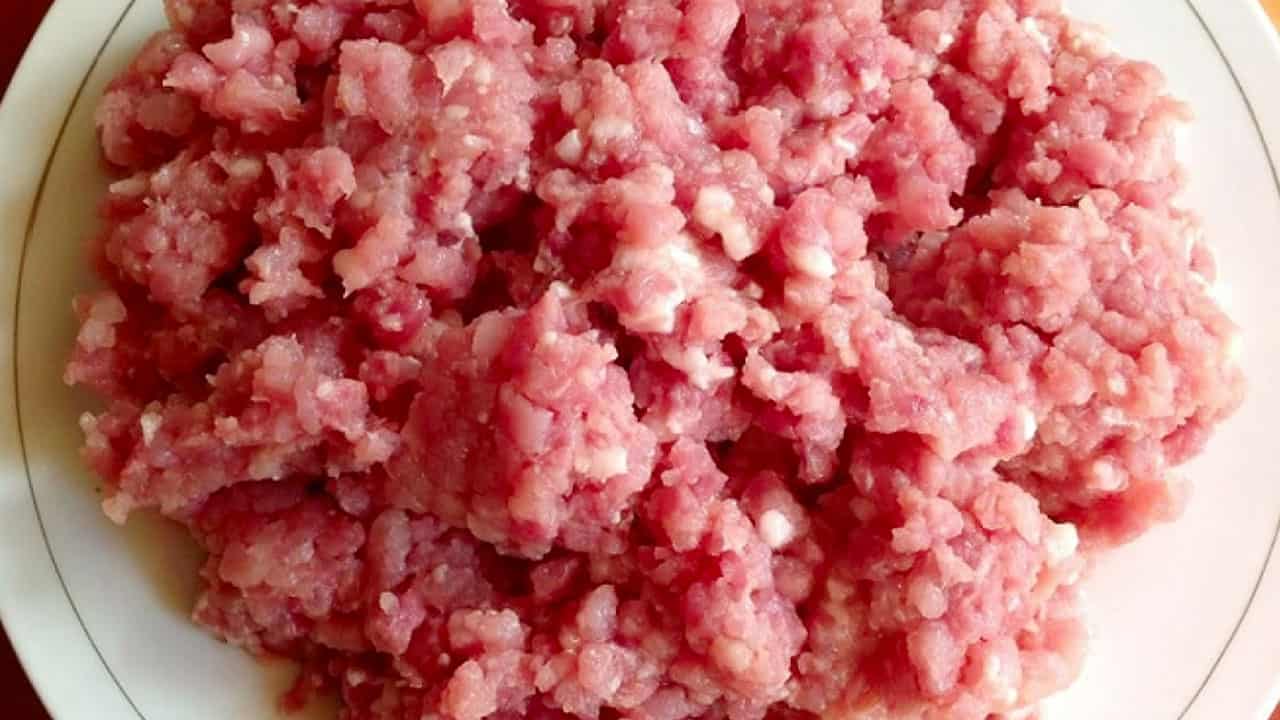 Prepare other ingredients
To remove plastic and grime from carrots and papayas, peel them before soaking them in diluted salt water for 5-10 minutes, then rinse with water and drain.
Continue by pruning the carrot blooms, then cutting the carrots and papaya into thin slices and placing them in a basin. Mix in 1/3 teaspoon salt, then marinate for about 15 minutes before rinsing the carrots and papaya with water.
Mix in 1.5 tbsp sugar, 1/4 tbsp salt, 1 tbsp vinegar, and 1/2 tbsp chopped garlic for another 15 minutes.
Note: If you have more conditions, you should grill meat with a charcoal grill. This way the meat will have a smoky smell and be more accurate.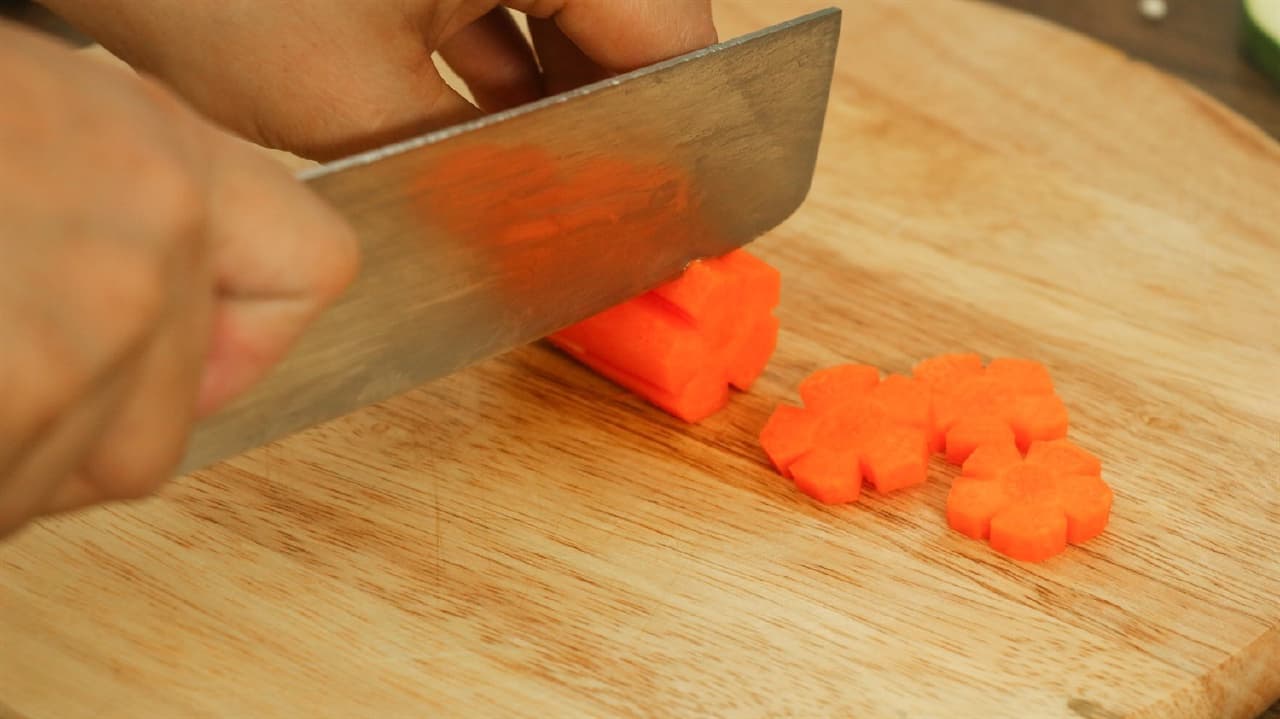 Cooking fish sauce
Cook for a few minutes on high heat with 1 cup of fish sauce (about 200ml), 1 cup of sugar (about 200gr), 1/2 cup of vinegar (about 100ml), and 2 cups of filtered water. Turn off the heat when the seasoning is entirely dissolved and the fish sauce begins to boil. Season to taste with your family's preferences!
Final Bun cha Hanoi
On a platter, layer grilled meat, vermicelli, and raw vegetables. In a mixing dish, combine the pickled carrots, papaya, and a pinch of minced chile, then toss in the cooked sugar fish sauce.
With just a few basic steps, we can make a delicious and appealing Hanoi bun cha dish that rivals that of other restaurants. Fold a small amount of grilled meat, vermicelli, and herbs into a bowl of fish sauce and serve. The meat has a rich flavor with the aroma of lemongrass and onions, and it is served with sweet and sour fish sauce, herbs, and sour dishes to help balance the flavor, making you want to eat forever. Get in the kitchen right away and attempt this cuisine!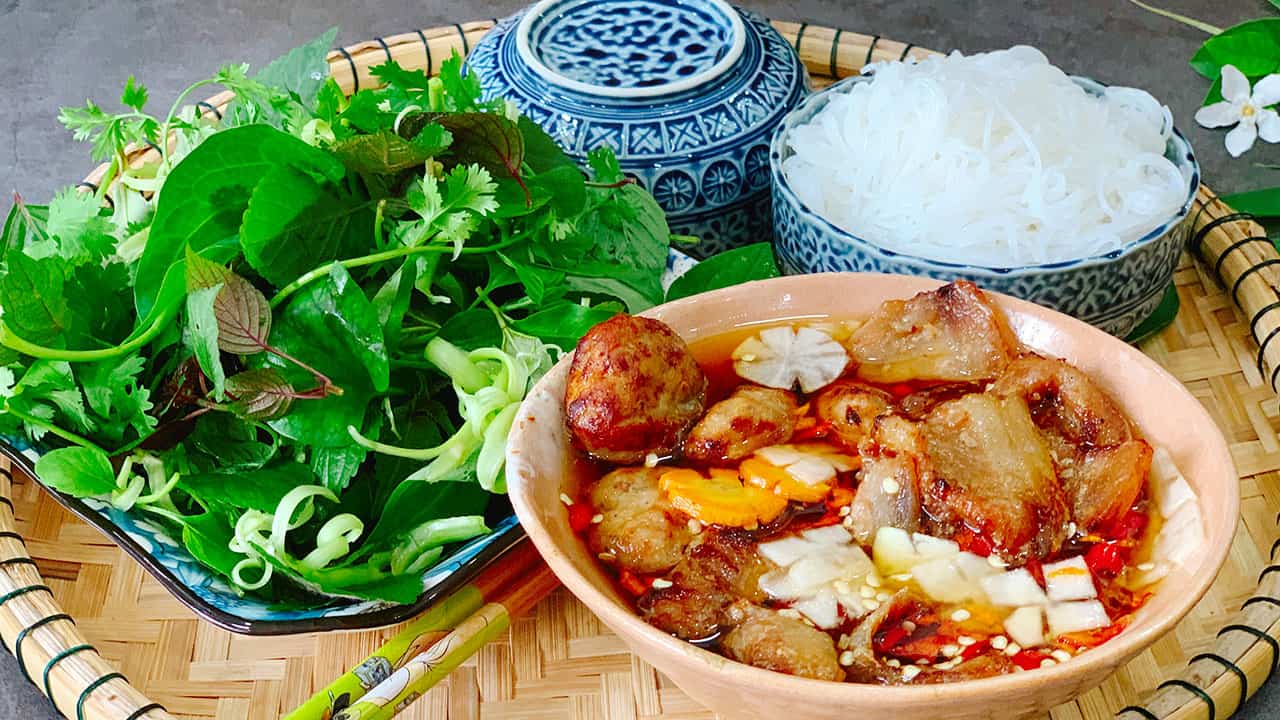 Note when eating bun cha Hanoi
Bun cha Hanoi, a meal associated with the Ha Thanh people, is a perfect example of unapologetically exquisite food that has enduring significance over time. It is unknown when and how Bun Cha was created, but it is known that it is a Vietnamese cuisine and a source of pride for the long-standing culinary culture that Vietnamese people have always maintained.
Bun cha frequently serves two types of rolls for the grilled portion: balls and pieces. Some people enjoy eating the ball while others do not. Cha ball will be created using finely chopped lean pork shoulder, salt, pepper, fish sauce, sugar, minced dried onions, vegetable oil, and water fat. The meatballs are extremely mushy and oily as a result of the components listed above. When it comes to patties, they normally utilize thinly sliced pork belly that has been marinated in the same seasonings as the ball. Both varieties of spring rolls are barbecued over a charcoal fire.
Usually, if you haven't learned or have known about bun cha previously, diners are easily puzzled when they don't know how to eat properly at the first taste.
How will you eat a cup of ready-to-eat fish sauce, aromatic buns with pickles, a dish of fresh vermicelli, or a platter of green raw vegetables? Many people would undoubtedly prefer to place veggies and meat on a dish of vermicelli, then pour a cup of ready-made fish sauce on top, mix well, and enjoy it like the South does with vermicelli and grilled pig. However, this is not the "typical Ha Thanh" style of eating, as many people believe.
People in the capital believe that the proper way to eat bun cha is with a variety of green veggies. Pick up a vermicelli chopstick and dip it in a bowl of sweet and sour fish sauce with aromatic balls. Then add green vegetable pieces and enjoy the lovely mix of foods.
In summary, Bun Cha Hanoi is unique in its own right, not too flashy but appealing enough in its own right. Despite numerous ups and downs throughout its history, bun cha has retained its particular flavor and is one of the national dishes of Vietnamese cuisine! Therefore, if you get the chance to visit Hanoi, you should try the bun cha Hanoi, especially with the top 5 restaurants above, with powerful flavors from the North!
Tags: bun cha hanoi, bun cha hanoi obama, bun cha hanoi recipe, bun cha hanoi near me, bun cha hanoi restaurant, bun cha hanoi how to eat