Hanoi street food is very diverse and has great appeal to most tourists coming here. Every dish is delicious, full of flavor, and awakens all 5 senses of diners. "What to eat in Hanoi?", specifically what to eat in a day in the old quarter, must be a difficult question for you to answer because there are so many options. However, you should try the following culinary discovery journey in Hanoi's Old Quarter with us.
What do you know about Hanoi cuisine?
Hanoi cuisine is a pride of the Hanoi people. Hanoians are famous for being elegant, and meticulous in the smallest details. And even in cuisine, Hanoians also show solemnity and sophistication. The food of this land can be said to have distinctive features in countless delicious dishes from all over the country.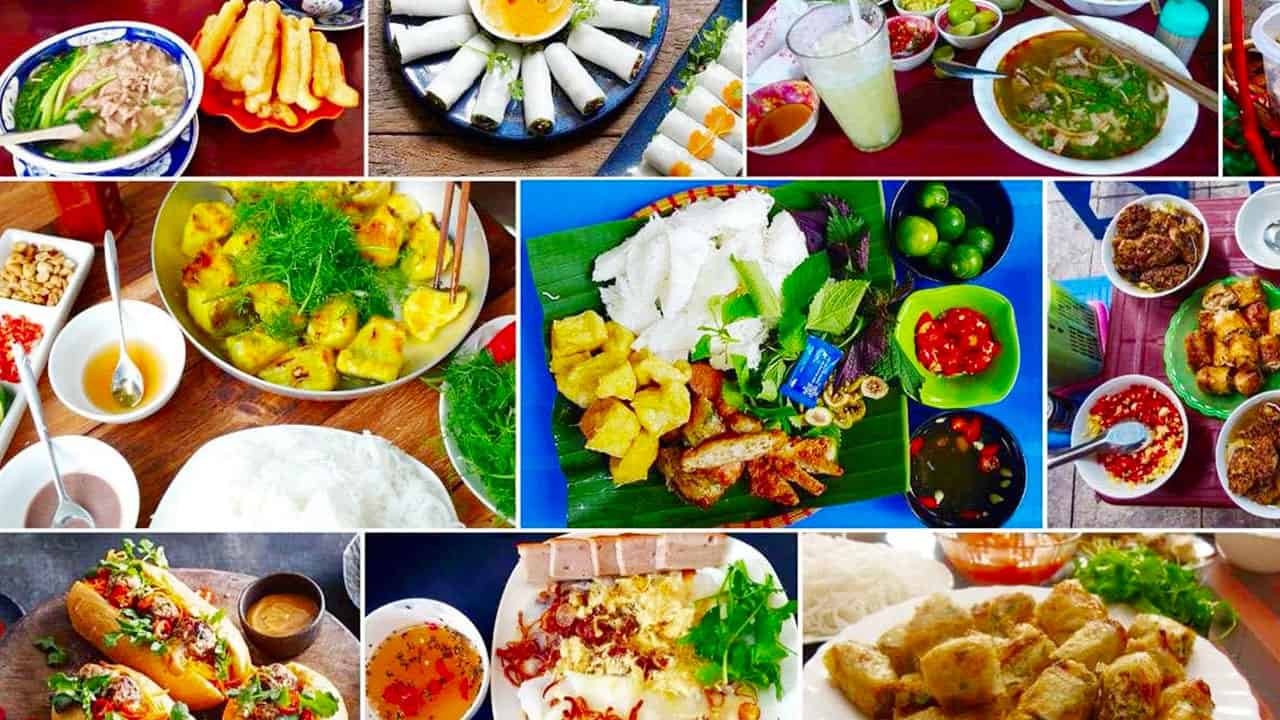 The dishes of Hanoi are processed sophisticatedly and delicately, converging typical flavors. Through the skillful hands of the Hanoi people, Hanoi cuisine from simple dishes has been elevated to culture. Hanoi Old Quarter has long been famous for many specialties.
What to eat in Hanoi Old Quarter? Top 10 delicious dishes
If you do not know what delicious dishes and famous restaurants in Hanoi Old Quarter have, the following section is for you.
Phở Hà Nội (Hanoi n
oodle soup)
When it comes to delicious food in Hanoi's Old Quarter, we must mention Pho. Pho Hanoi is considered one of the national dishes of Vietnam. A bowl of pho is elaborately processed with many steps. The broth is bone broth simmered for hours, and dried onions and ginger are grilled and pounded to add aroma to it. Anise, cinnamon, and complex spices are indispensable for this dish.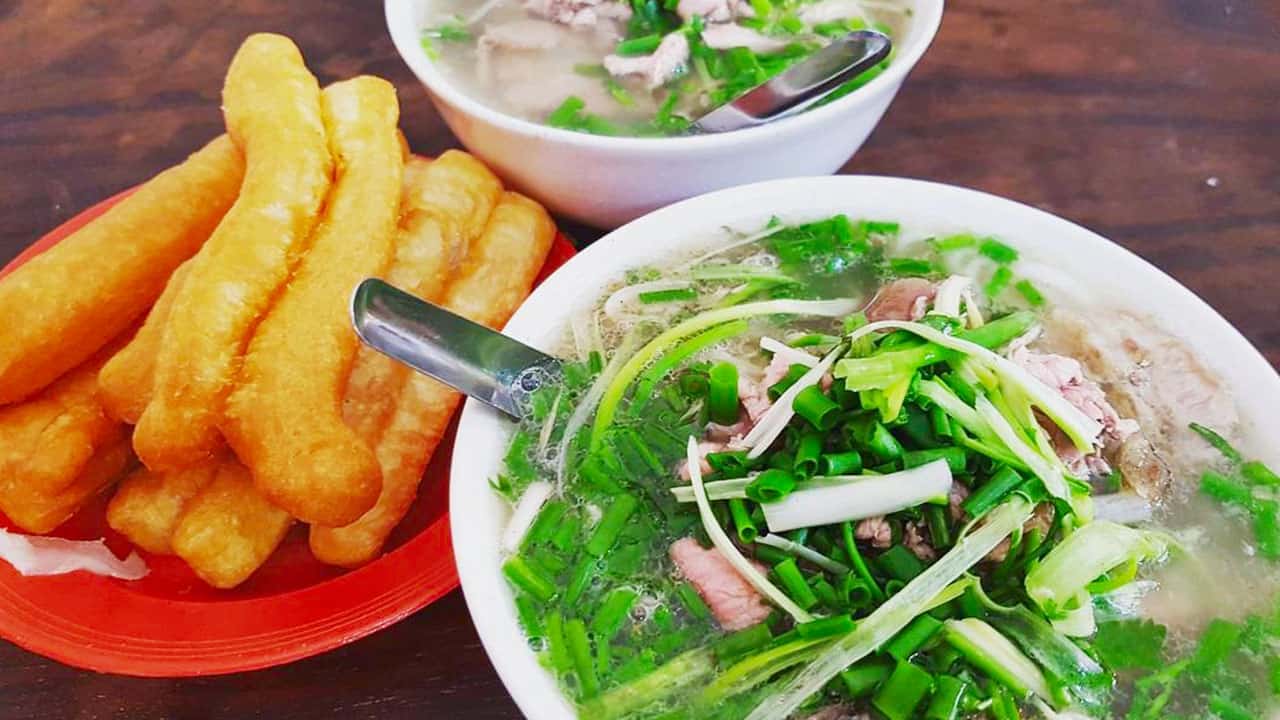 A delicious bowl of Pho with white noodles, beef, tender cooked meat, scallions, and onions. The broth is clear and flavorful. You can serve this dish with a little vinegar, garlic, and chili sauce. The meats in Pho are beef, chicken, and pork.
You should try this dish at:
10 Ly Quoc Su, Hoan Kiem, Hanoi
49 Bat Dan, Hoan Kiem, Hanoi
Bánh mì Hà Nội (Hanoi bread)
Banh Mi or bread is a dish that is so familiar to the people of Hanoi's Old Quarter. Compact, easy to carry, delicious taste, and affordable price have made bread a favorite choice of many people. You can use it for breakfast, lunch, dinner, or a late-night snack.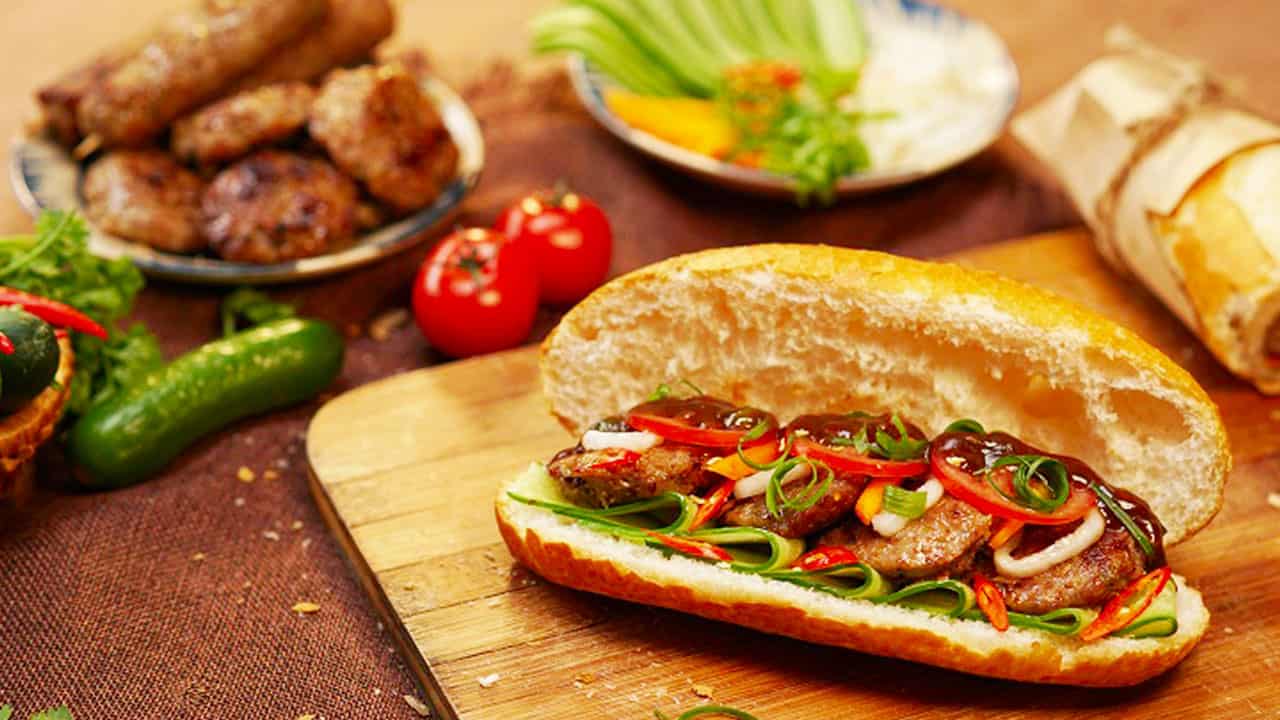 Traditional bread of Hanoi's Old Quarter will bring diners back to the taste of the old days of Vietnam. The bread consists of simple ingredients of butter, pate, pork, red sausage, and pork meatloaf, it is served with cucumber. Pate must have the aroma of pork liver, pepper, and dried onion. Its structure is very cohesive and not disjointed. Banh Mi is always preheated before being delivered to customers, with a crispy crust. You just need to take a bite to feel all the delicious flavors of each ingredient in harmony.
You should try this dish at:
Lan Ong Bread: 20 Cha Ca, Hoan Kiem District, Hanoi
Hien's bread: 76 Hang Giay, Hoan Kiem district, Hanoi
Banh Mi 25 Hang Ca street, Hoan Kiem district, Hanoi
Ba Dan Bread: 34 Lo Su, Hoan Kiem District, Hanoi
Bún chả Hà Nội (Grilled pork and noodle)
Bun Cha is one of the delicious dishes in Hanoi's Old Quarter that is known by many people and has been highly appreciated by many gourmets. A delicious Bun Cha Hanoi will be the harmony between the types of pork.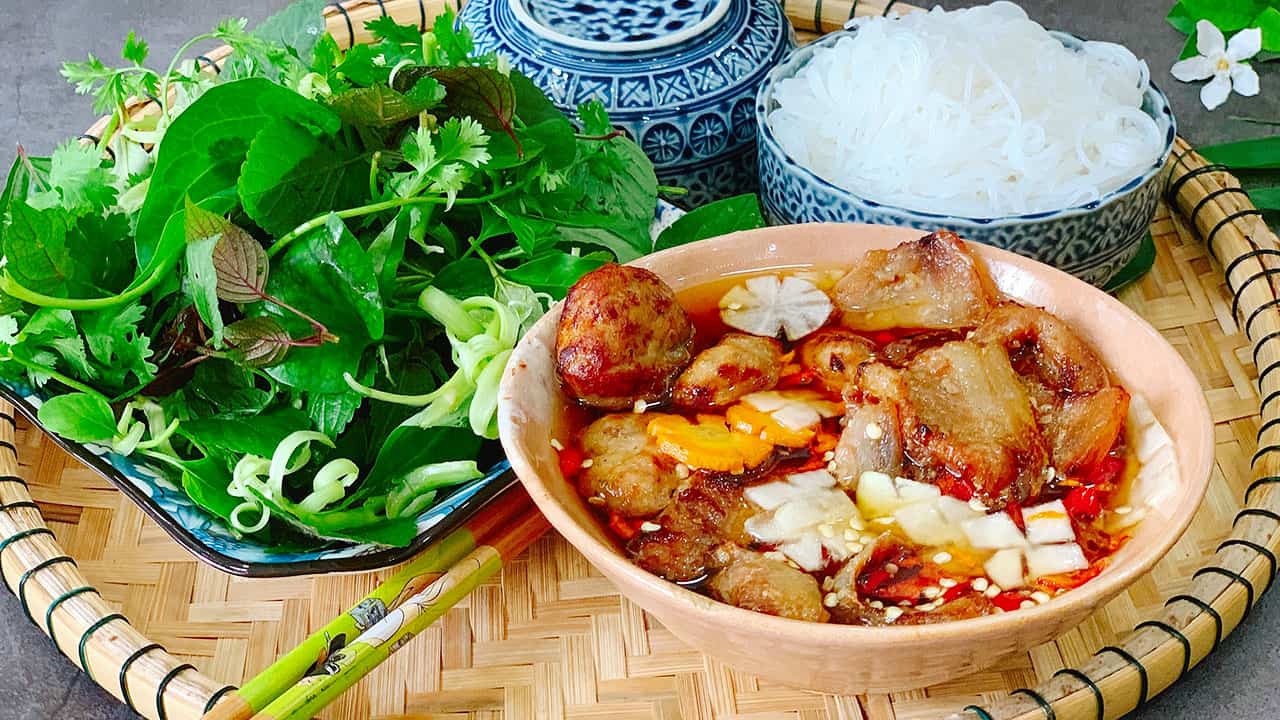 The best thing is the dipping sauce of this dish, which has a balance between sour, sweet, and salty. The Cha (grilled pieces of pork) are seasoned with spices, and they are grilled over charcoal. They will have a very characteristic smoky aroma. If you want a fuller meal, you can order some fried spring rolls.
There are too many delicious Bun Cha restaurants in the Old Quarter, but you should go to Huong Lien Bun Cha. This is where former US President Barack Obama ate at this place with super chef Anthony Bourdain in 2016. This restaurant is crowded at noon, including many foreign tourists. In order not to have to wait too long, you should arrive at this shop's off-peak hours.
You should try this dish at:
Bun Cha Hang Quat: Alley 74 Hang Quat, Hoan Kiem, Hanoi
Bun Cha Hang Than: 34 Hang Than, Ba Dinh District, Hanoi
Bun Cha Hoa: 17 Yen The Alley, Hoan Kiem, Hanoi
Bún riêu cua Hà Nội (Hanoi crab noodle soup)
Hanoi crab noodle soup (Bun Rieu Cua) is an indispensable dish on the list of delicious dishes you should try.
The ingredients for this dish include fresh vermicelli, small crabs, tomatoes, shrimp paste, and onions. The cook will bring all the crabs to wash, puree, and filter the water. This part of the water is boiled for the crab meat to rise and stick. Bun Rieu Cua originated from the North and turned into a popular breakfast dish by Hanoians. If anyone wants to enjoy a mild, simple, and gentle bowl of vermicelli with crab, they should visit the addresses below. A full bowl of crab noodle soup will have beef, pork rolls, tofu, and vegetables.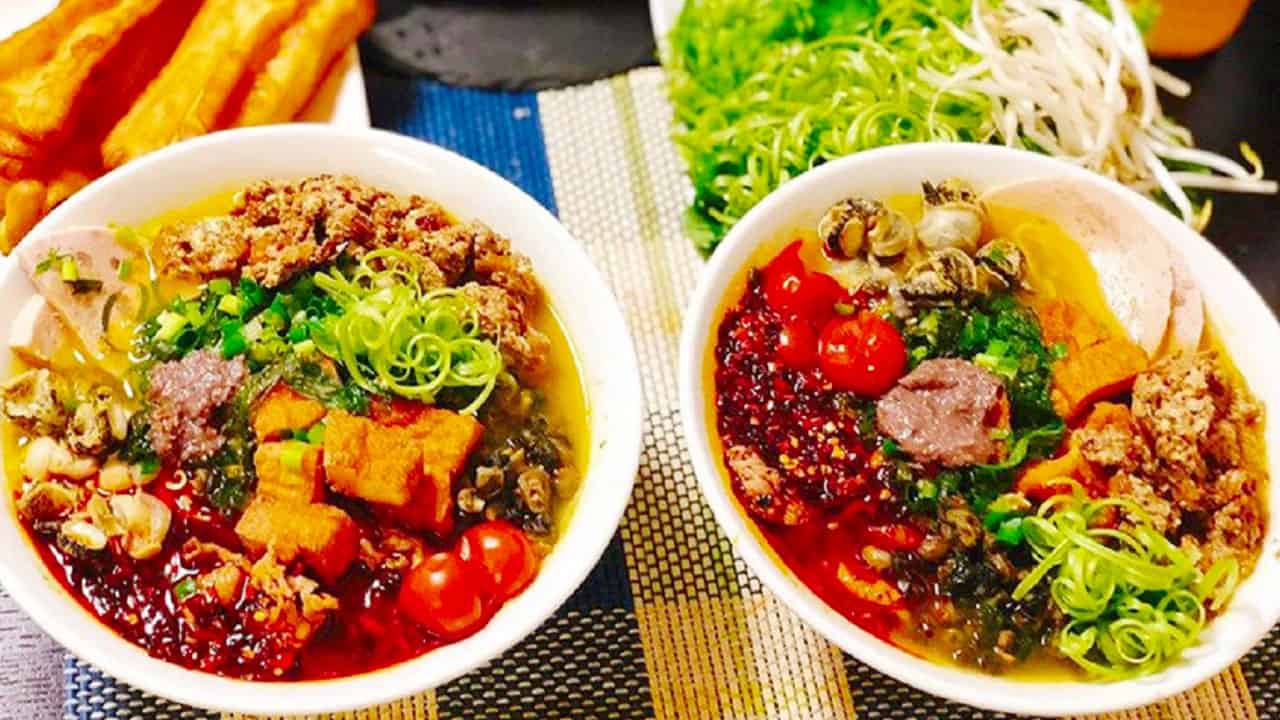 You should try this dish at:
11 Hang Bac, Hoan Kiem District, Hanoi
23 Nguyen Sieu, Hoan Kiem, Hanoi
14 Hang Luoc, Hoan Kiem, Hanoi
Bún Thang Hà Nội (Vermicelli and chicken soup)
Bun Thang is a dish you should try when you do not know what to eat in Ha Noi. This dish has high requirements to be perfect, so quite a few restaurants are selling this dish in Hanoi. A delicious bowl of Bun Thang requires the chef to be knowledgeable about each ingredient and meticulous in each stage.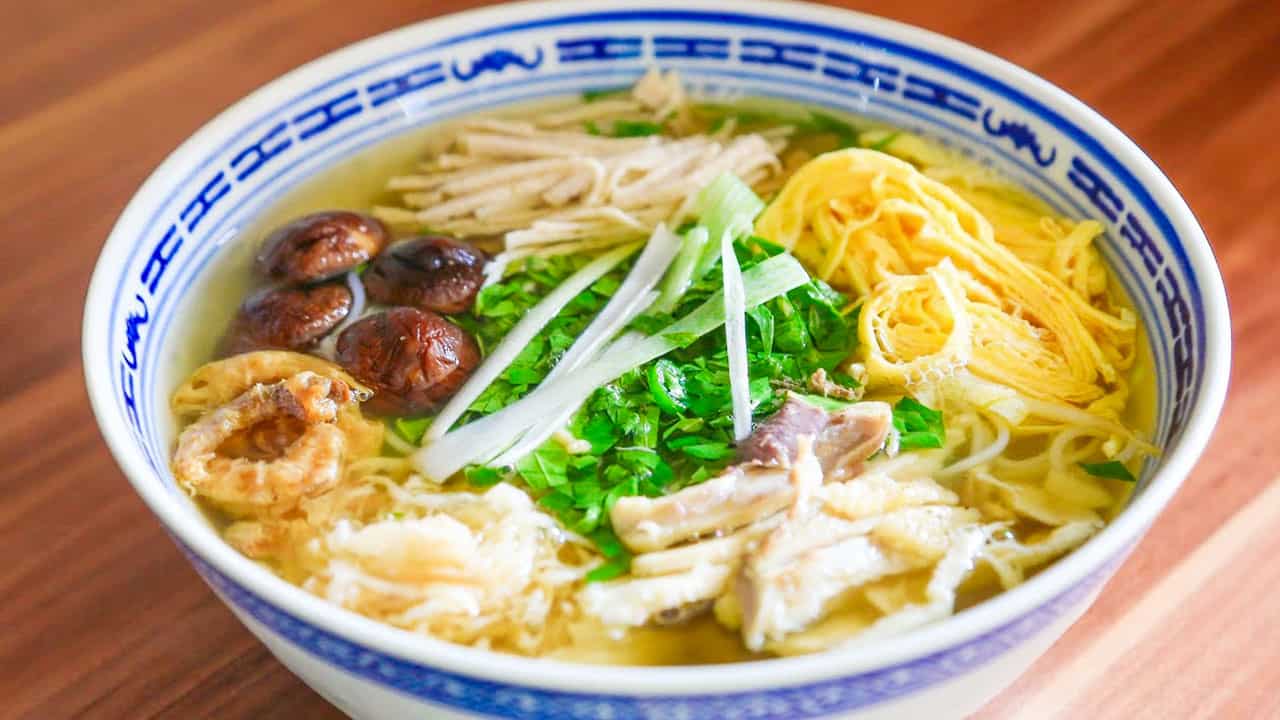 The broth is stewed from the bones and must be prepared the night before. A pot of broth must have the aroma of simmered chicken bones, shrimp, and mushrooms with a rich sweetness.
The ingredients include eggs, chicken, pork bologna, and radish, which are sweet and crispy. You can't forget some green onions and "coriander". You can also add some shrimp paste to add more flavor to this dish.
You should try this dish at:
Bun Thang Ba Duc: 48 Cau Go, Hoan Kiem District, Hanoi
29 Hang Hanh, Hoan Kiem district, Hanoi
25 Hang Hanh alley, Hoan Kiem district, Hanoi
5 Hang Thiec, Hoan Kiem District, Hanoi
Chả cá Lã Vọng (La Vong grilled fish)
This is the oldest dish in the Old Quarter and is enjoyed by many diners. This dish has a delicate combination of the fatty taste of fish cakes, the aroma of vegetables, and onions, and the rich taste of shrimp paste. All these flavors create a charm for diners.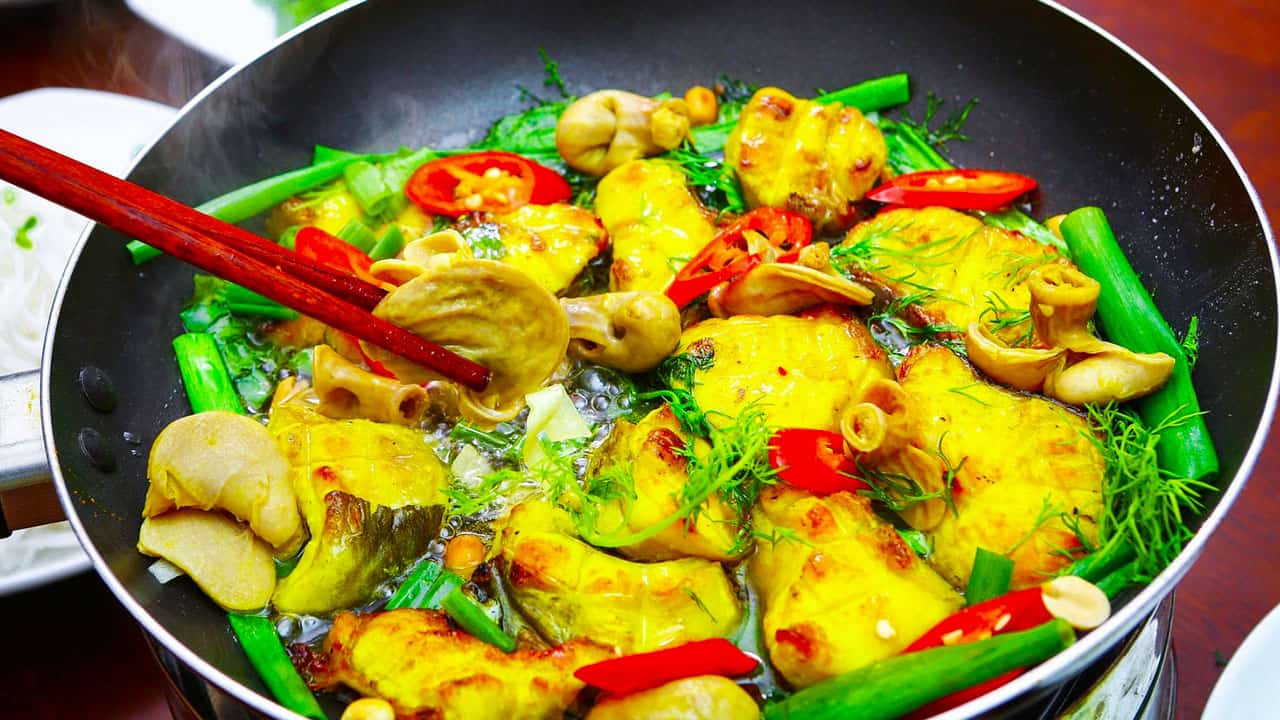 Cha Ca La Vong is made from crystal-eyed catfish and snakehead fish, so the fish meat is guaranteed to be firm, chewy, and sweet. Pieces of fish are marinated with extremely rich spices and then briefly grilled over charcoal. This dish needs to be kept hot during the whole cooking process.
You should try this dish at 14 Cha Ca, Hoan Kiem, Hanoi
Bánh tôm Hồ Tây (West Lake shrimp cake)
West Lake Shrimp Cake is so famous to all tourists. Coming to Hanoi, this is also a delicious dish for you. Banh Tom Ho Tay is a cake consisting of flour and shrimp mixture. They are deep-fried and drained. The shrimp filling is fresh and sweet. Shrimp cakes are often served with sweet and sour dipping sauce. You can enjoy this dish more with vegetables and add a little chili. It is a great combination for you.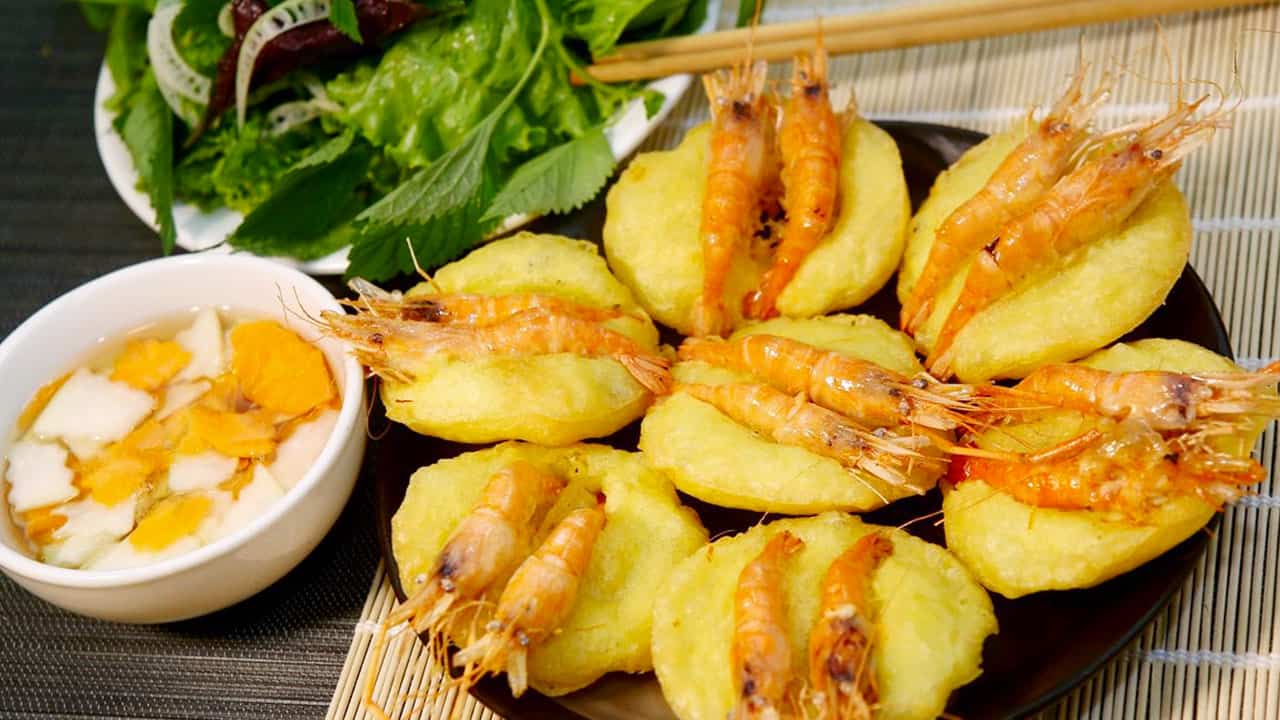 You should try this dish at:
Hang Bo shrimp cake: No. 57A Hang Bo, Hoan Kiem, Hanoi
Dumplings and shrimp cakes Hien Hao: 9 Hoe Nhai Alley, Hoan Kiem, Hanoi
Pillow cake shrimp cake: No. 10 Hong Phuc, Hoan Kiem, Hanoi
Bánh cuốn Hà Nội (Steamed rice roll)
Steamed rice roll is a delicious and affordable dish for many people. Banh Cuon is soft and has the smell of wood ear mushrooms and fried onions.
Steamed rice rolls are served with a dipping sauce made from minced pork with salt, spices, and sugar. Fish sauce will make the dish more delicious and rich. Baking powder is finely milled rice. After it has been cooked by steam, the cake will be wrapped with cooked meat, wood ear, and shiitake mushrooms. When enjoying this dish, you will eat it with herbs to add flavor. In addition, customers can order some more dishes such as roasted cinnamon pork, and pork bologna.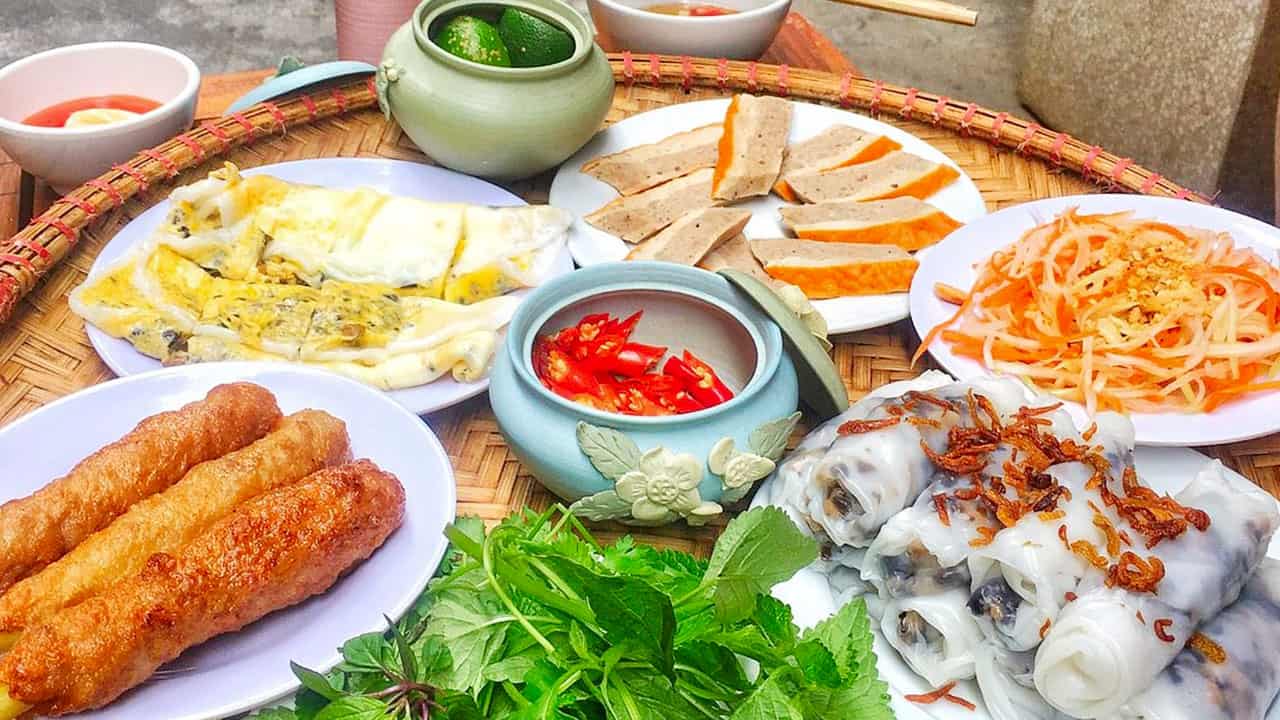 You can try this dish at:
Banh Cuon Ba Phuong: 16 Doc Hoe Nhai, Ba Dinh district, Hanoi
Banh Cuon Thanh Van: 12 Hang Ga, Hoan Kiem district, Hanoi
Banh Cuon Phuong: 68 Hang Cot, Hoan Kiem district, Hanoi
40 Hang Tre, Hoan Kiem, Hanoi
Cốm làng Vòng (Green rice)
Com (Green Rice) is considered a specialty dish of Hanoi, especially when the weather in Hanoi is in autumn. If you have come to this land but have not enjoyed the Green Rice, it is a mistake for you. Green Rice is often combined with many different dishes. However, the right way to enjoy green rice in Hanoi people is to eat it with bananas. The soft, aromatic flavor in each grain of Green Rice blends with the strong aroma of sweet bananas. This combination is sure to make you remember it forever!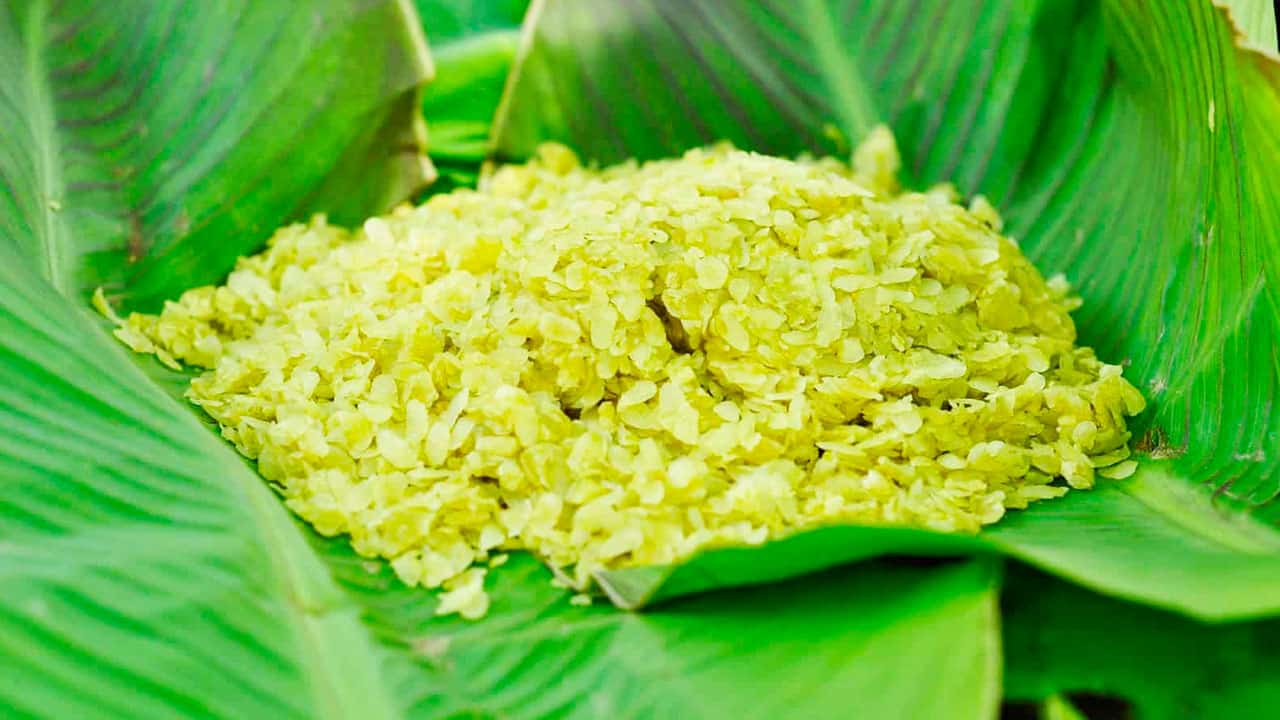 Vong village was famous for its specialty of green rice a long time ago. The profession of making Green Rice in the village has had a process of development and maintenance, existing up to now.
You should try this at:
Hanoi Nguyen Ninh round green rice: 11 Hang Than Street, Hanoi
Cà phê trứng (Egg coffee)
Egg coffee (Cà phê trứng) is a type of coffee created from coffee and whipped yolk. This drink has been around for a long time and it is still loved by people. Egg coffee appeared in Hanoi in the fifties of the twentieth century. The origin of this coffee is still handed down orally to this day. When Western coffee products were introduced to Vietnam, they soon won the hearts of customers. Right now, fresh milk is scarce, so the owner of a cafe in Hanoi has used egg yolk as an alternative to milk. Surprisingly, that drink was praised by everyone and became a specialty.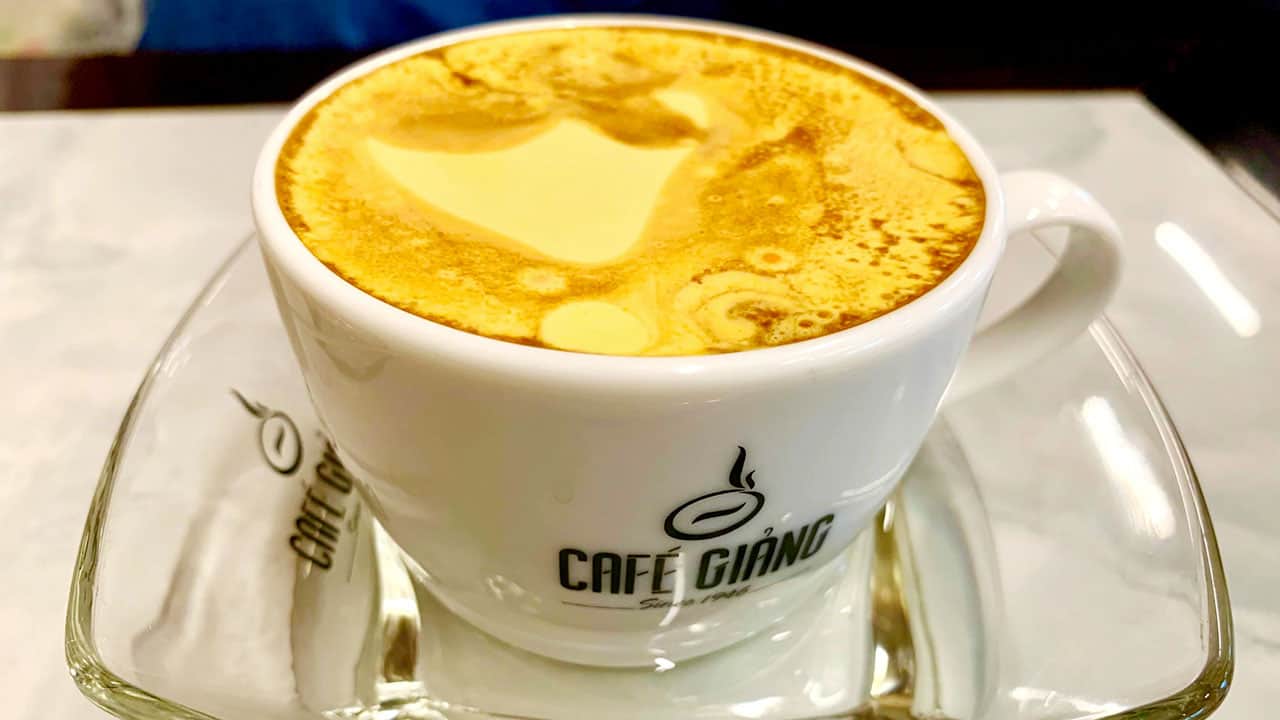 You can try this drink at:
Cafe Giang: 39 Nguyen Huu Huan, Hang Bac, Hoan Kiem, Hanoi
Cafe Lam: 60 Nguyen Huu Huan, Hang Bac, Hoan Kiem District, Hanoi
Cafe Ba Khanh: 55B Hai Ba Trung, Hoan Kiem District, Hanoi
The dining experience in Hanoi's Old Quarter
If you want to travel to Hanoi and try the above dishes without being ripped off, you should refer to the notes below.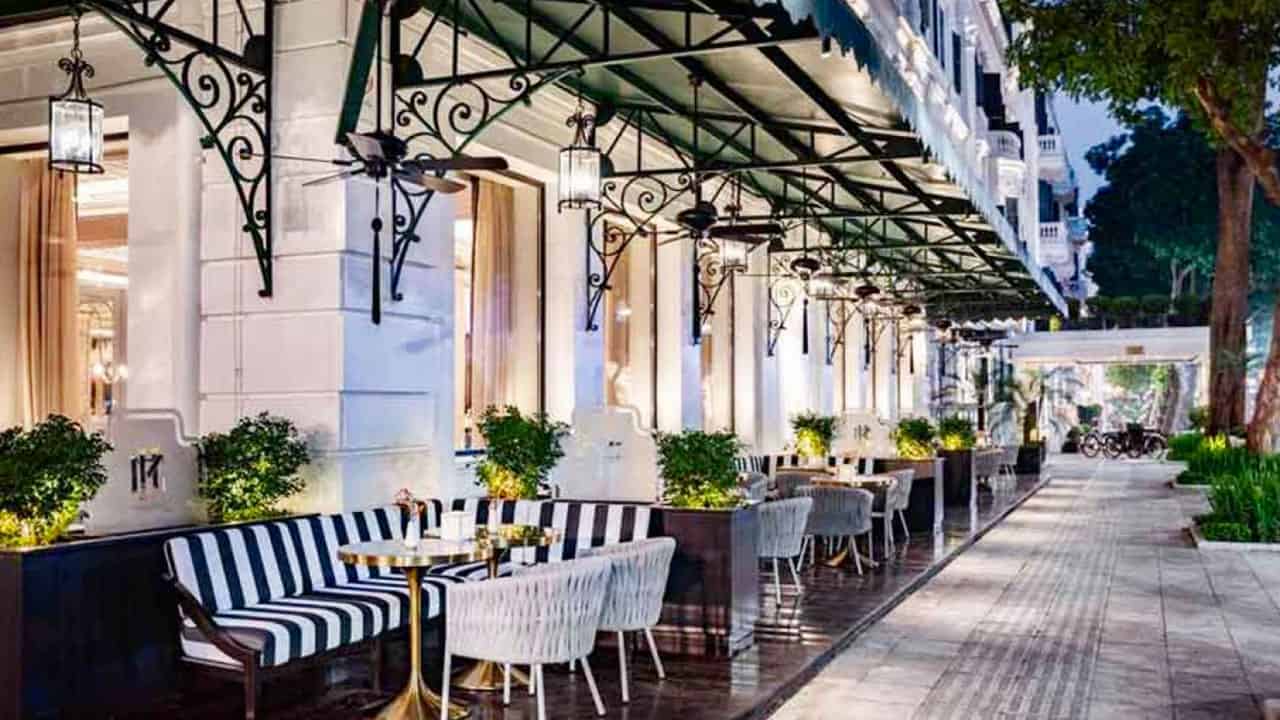 Find out about the restaurants on the internet
You should carefully research information such as prices of services, and reputable restaurants when coming to Hanoi. This will help you not to fall into the trap of people who increase the price of the dish. In addition, this also helps you understand more about the culture, habits, and differences of Hanoi compared to other localities. Prices for some services in Hanoi are often higher.
Choose restaurants with menus that list prices or ask for prices before eating
Hanoi is the paradise of sidewalk food stalls. However, this street food culture sometimes makes it difficult for tourists. Because finding the price list in these restaurants is not easy. Easy-going guests will fall into the case of being ripped off. Therefore, when entering any restaurant or store, you must also ask for the price of each dish, and the surcharge for the products and dishes.
Check your invoice carefully
Some restaurants may charge the wrong amount, charge extra dishes, add plates or add some dishes that diners did not order. Therefore, you need to check the bill to see if the items you ordered are correct, the number of plates eaten, and add up the total amount before paying. The same goes for local guests. If you are a foreign visitors, you should be more careful about this.
Don't be afraid to bargain with the restaurants
Not only in Hanoi, talking about ripping off is a common situation in most tourist destinations in the world and Vietnam. That's why you have to plan specifically about places to have fun, check carefully online to see if the restaurant has a reputation for unexpected price increases, and don't be afraid to bargain.
Memorize the hotline phone number
Advice for tourists when encountering ripping off is to save the phone number of the hotline of the Hanoi authorities. The hotline to receive complaints about fraud and stalking tourists in Hanoi is 1800556896. This line operates 24/7.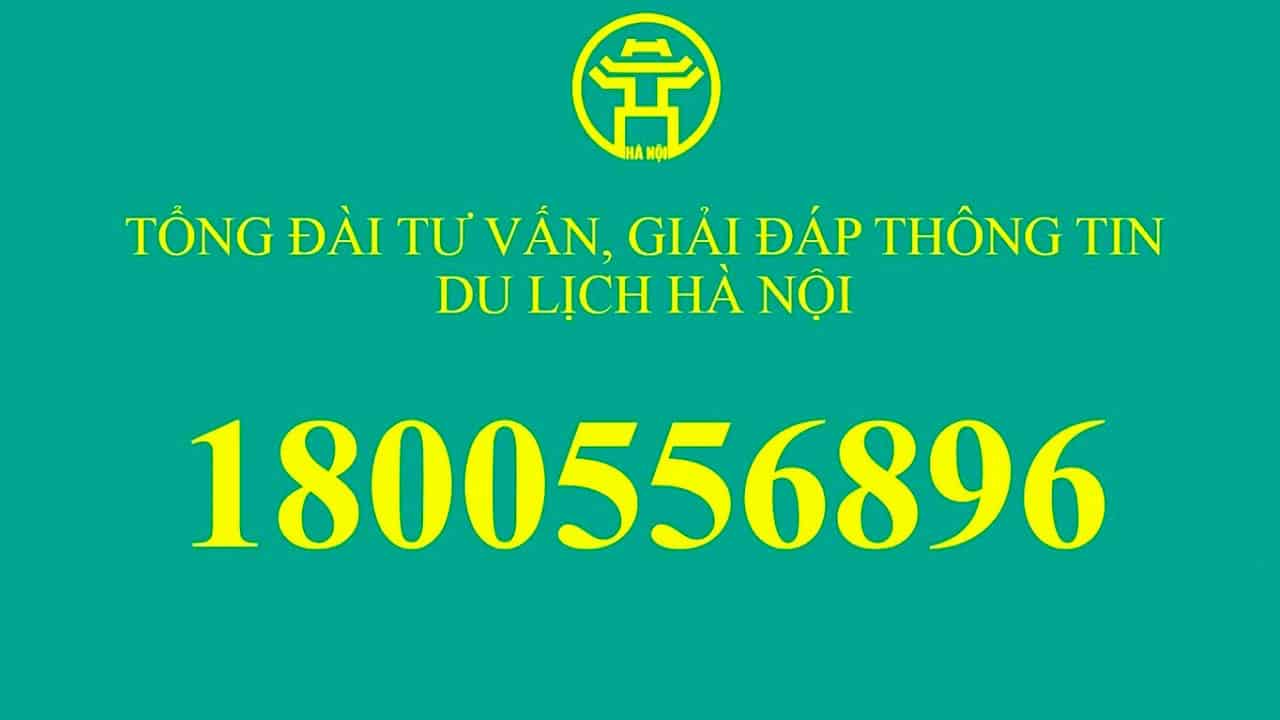 Final thoughts
We hope you already know what to eat in Hanoi through our above article. Above is a summary of 10 delicious dishes in Hanoi's Old Quarter. We hope that the article can help visitors to Hanoi satisfy their food preferences and culinary passions.
Tags: what to eat in hanoi, what to eat in hanoi 2023, what to eat in hanoi vietnamese, what to eat in hanoi night market, what food to eat in hanoi, what to eat in hanoi old quarter, what to eat in old quarter hanoi